Cabled hoodie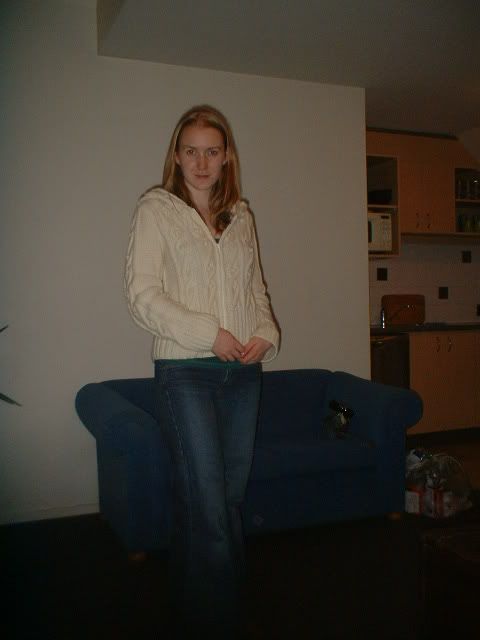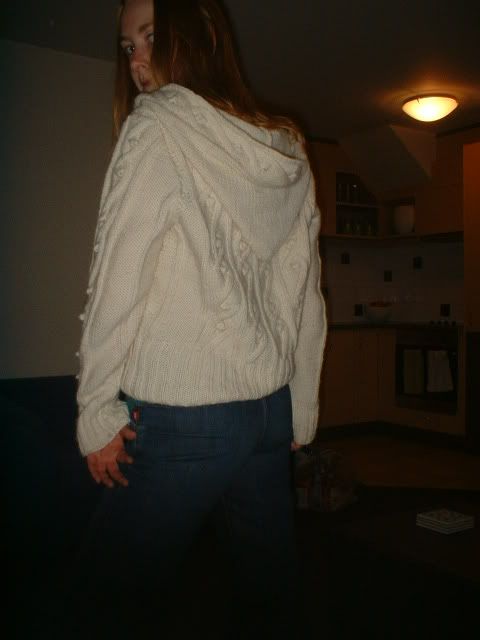 You've seen my first FO, now for my latest: the Cabled Hoodie from the Paton's Street Smart booklet. The Must-Have Cardigan from the booklet was the thing to knit on the internet there for a while, but I never really understood the obsession with it myself.
You can even see a little bit of my apartment in the background, for those of you who have been dying to see what it looks like!
And yes, my bottom IS that small. Not a trick of photography AT ALL.
Ahem. Back to the hoodie. I love it! I know this sounds weird coming from a knitter, but I've never had a big woolie jumper before. It is so unbelievably warm. I'm not used to being so warm, it's weird!
Stats: yarn = Patons Classic Wool (100% merino) in cream, 7 balls
Pattern size = small (would have been a medium, but the pattern has a lot of ease and I wanted to compensate for that)
Pattern changes - I did a tubular cast-on for the ribbing, which I'm very happy with. Apart from that no changes. The sleeves turned out a little short though - I can't roll the cuffs back, and I don't by any means have ape arms! I like them rolled down though.